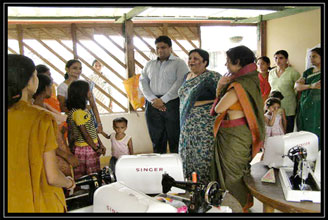 Mata Krishnawanti Memorial Educational Society has launched a Stitchery Centre for underprivileged women in the premises of Gaia Play School, Sector-93, Noida.
The Stitchery Centre was inaugurated by Ms. Amita Shaw, Director National Bal Bhavan, who met the underprivileged women from slum clusters and gave them a guiding light and encouraged them to come up and learn these life skills so as to become economically independent. Mr. Rishabh Gupta, Secretary MKMES, has always been striving to help the underprivileged lot of the society and in the endeavours to uplift them, Mata Krishnawanti Memorial Educational Society launched this stitchery centre where the underprivileged women, widows and girls could be provided free of cost training in many tailoring skills that could help them in being financially self-sufficient. The Principal of Gaia Play School, Mrs. Aditi JAinil also helped the Society's efforts by making the women aware of this training programme by going to the various slum clusters.
The training classes are being held daily from afternoon to evening where underprivileged women from all age groups are being given free of cost training for cutting, tailoring, embroidery, needlework and many such skills which can ultimately generate income for them.
The Stitchery Centre has received a wonderful response from the women and girls of nearby slum areas. The women come during the afternoon hours after winding up their household chores and the girls attend the training classes after their school hours. Many widows, who otherwise were leading deplorable life, have now got a mode of occupation by learning needlework and other tailoring skills which would help them in their earnings. Nearly 40-50 women are benefiting from this programme who are learning the different skills according to their interests and that too free of cost.
A lot of enthusiasm can be seen in these women as they have gained confidence, as whatever articles they are preparing while learning are also fetching them income side by side; and they now have a ray of hope of future income possibilities and employment opportunities!