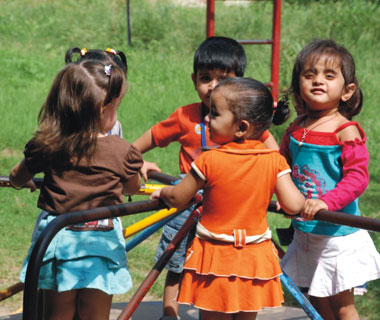 Mata Krishnawanti Memorial Educational Society works on the lines of different Government social schemes like Sarva Shiksha Abhiyaan where we follow their standard guidelines and mission objectives. The Society ensures free education for children up till 14 years of age, coming from economically weaker section of the society including children of construction workers, beggars or people who work in intermittent income jobs.
Mata Krishnawanti Memorial Educational Society regularly undertakes varied programmes including scheme for free of cost distribution of text books, uniforms and book-banks. Apart from primary education, it also conducts programmes for continuing adult education, laying greater emphasis on systematic evaluation and rigorous monitoring of the performance of each project.
The society is running a Senior Secondary School, under the name of Richmondd Global School located in Paschim Vihar, which is duly recognised by the Directorate of Education, Govt. of NCT of Delhi and is also affiliated to Central Board of Secondary Education (CBSE)
Mata Krishnawanti Memorial Educational Society also conducts free of cost  classes for more than 200 underprivileged students on a daily basis in Richmondd Global School after regular classes are over. Regular scholarship schemes for poor and bright Students are also undertaken by the organisation to promote the cause of education and provide opportunities to the deserving children.
Several direct assistance schemes like income generation plans, health awareness camps, computer literacy programmes, cancer awareness programmes etc. are also frequently undertaken. It also advocates awareness at all levels and conducts seminars/workshops on women rights, poverty alleviation, family planning & health camps, environmental awareness programmes and many more.