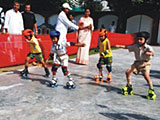 Playground
The playground has equipment and space for running, skipping, soccer and basketball with large sand play areas, climbing and bar equipments, plastic outdoor building blocks, a vegetable garden and various other active games.
At Richmondd, childhood is celebrated. It is a place filled with warmth, joy, fun, laughter, creativity and learning.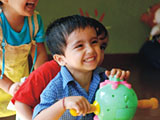 Sports Club
Sports is an integral part of the Richmondd programme. The school has various sports that includes Soccer, Football, Cricket, Tennis, Athletics, Table Tennis, Basketball, Netball, Volleyball and cross country running. The school provides regular and ample time for all competitive sports on weekdays, rather than just saturday school sporting commitments. One of the key of Richmondd's approach to participation in sports is that winning by no means is the only method of judging achievement.
Competition that aims at producing excellence of performance and recognises self-improvement is extremely valuable and is encouraged.
Richmondd students have a reputation not only for playing hard but also for fair play and willingness to accept victory and defeat in a graceful manner.
As a compulsory part of curriculum, Hobby Club & Sports Club offer a variety of activities.
The Time Table is laid down in such a way that students get an opportunity to enjoy every sports activity every week. Some of the  sports Activities in Richmondd Global School  are:
Gymnastic
Horse Riding
Rifle Shooting
Archery
Yoga & Meditation
Aerobics
Tae-Kwon-Do
Skating

Lawn Tennis
Chess
Basket Ball
Volley Ball
Hand Ball
Badminton
Cricket
Hockey

Hobby Clubs
The school also hosts various hobby clubs for the students which are:
Science Club, Investors Club, Aero and Ship Modeling Club
Instrument Club: Sitar, Guitar, Violin, Tabla, Bongo, Kongo, Synthesiser, Drum, Casio
Literary Club: Debate, Seminar, Creative Writing, Group Discussions
Art & Painting Club: Batik, Handicraft, Woodcraft, Block Printing, Weaving, Needlecraft
Photography Club : Black & White/colour Photography
Music Vocal Club: Classical & Western
Dance Club: Western & Classical
Theatre Club: Dramatics & Puppetry Play
Terracotta Club: Sculpture Making
Computer Lab: Desktop Publishing ,Graphic Designing, Web Designing, Internet and Animations
Mathematics Club: Volume & Surface, Abacus, Puzzles, Pythagoras, Derivation of formulas through activities
Nature Club: Paper Recycling, Plantation, Manure Making, Gardening
Our Focus
"To give maximum benefit of the school activities to the students of the School"
Small can indeed be beautiful when it comes to an educational organization such as Richmondd. Classes are maintained at a size which enables close relationship between the teacher and student.
Participation by all students is actively encouraged and expected in sporting and musical activities. With our small groups there is an opportunity for all students to be involved in so many areas which readily enables full expression of their natural qualities both scholastically and in less formal educational fields.

Safety & Security
Safety & Security is our main concern. Each child  is safe and secure in the school premises as there is strict vigilance at the entry gate. During the school hours maids and guards have been assigned the duty for every child's security.

Physical Development And Movement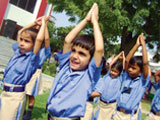 The outdoor area and equipments are used for energetic activities where children develop and learn to jump, skip, climb, balance, throw, catch and use space. Small muscle movements, hand control and grip are developed during the indoor activities such as wiring, cutting and sewing, painting, using sand, dough and thread. Regular opportunities are provided for physical development and movement of children.
Children develop co-ordination, balance, dexterity and control through a range of activities. This enables them to know the working of their bodies and helps them to understand the need to be healthy and safe. A wide range of equipment like scooters, tracks and climbing frame is provided to promote physical growth. We encourage children for outdoor activities whenever possible. Their fine motor skills are developed through activities using equipment such as construction toys, sand, paint or play dough.
The four areas of learning that we teach them to be in are:
A strong child
A skillful communicator
A competent learner
A healthy individual
These areas are further sub-divided into four additional parts. Our nursery wing supports the principles which underpin the above framework. We strongly feel that the children learn skills, attitude and knowledge through play and directed activities.

Smart Class Programme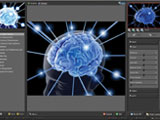 RGS is bringing digital revolution by introducing smart class programmes for each and every class. Smart class brings about a complete transformation in classrooms. Smart class rooms are equipped with Interactive Digiboards. Teachers use the digital resources such as animations, video clips and simulated models to teach the specific topics in the class. Visual presentation through smart class programmes makes the learning an enjoyable experience. Difficult diagrams, maps and illustrations are readily available to show the class a 3D animation on a large screen.
It serves as an effective tool to clear abstract concepts to the children and this results in faster and accurate understanding of the concepts in class that helps improve the overall academic performance of the students.

New Age Laboratories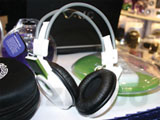 Language Labs : Richmondd Global School has brought a fairly innovative concept in building self confidence in its students. Under the guidance of expert speech modulators and language trainers, the students are taught to speak with utmost confidence. The instructors develop linguistic ability of children and hone their accent so brilliantly that their pronunciation reaches international standards.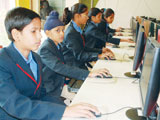 Computer Labs
In today's world, technology is the key to success. It is an integral part of a child's development that equips him to know about the happenings around the world. But, the most important thing is to have an access to the latest and the best technology of the time. And this is exactly what we provide at our school. We have 30 computers of the most recent make and design, equipped with WI-FI System, empowering students under the guidance of highly experienced and seasoned computer instructors.
The children can have access to school website through their individual password with a simple click of a mouse, and download all the relevant information of their complete class work or homework in case of their absence from the school. Moreover parents can also regularly monitor the progress of their wards through internet.
Physics, Chemistry and Biology Labs
The school has three major laboratories, well equipped with apparatus of global standards. Students conduct experiments with meticulous observation and analytical thinking under the able guidance of the highly experienced and competent teachers. There are regular and compulsory periods for practical, which in today's scenario has become the hallmarks of true education as per the guidelines and directions of CBSE. The scientific bent of students, as well as rational and logical skills are triggered fabulously through these practical classes.
| | | |
| --- | --- | --- |
| | | |
| Physics Labs | Chemistry Labs | Biology Labs |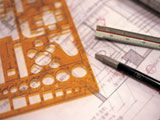 Mathematics Laboratory
Mathematics, which has always been considered an intimidating subject, has become quite interesting owing to the introduction of Maths Lab. To make mathematical concepts easy and learner friendly, our maths lab, is well equipped with geometrical instruments and assignments based on explorations in the field of Mathematics. It also has ample information about different mathematicians of past and present and their research work and contribution in this field. The lab successfully relieves students from the fear of numbers and makes learning a lively experience.

Audio-Visual Aids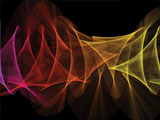 The time of chalk and board are gone. Today we need to bring alive what we teach. To achieve this, Richmondd Global School has a well equipped audio-visual room. Its lively and interactive environment encourages every child to actively participate in the learning programme. Moreover, the new age gadgets make the whole process of gaining knowledge extremely engaging and interesting.

Mint Of Print Plus (E-Library)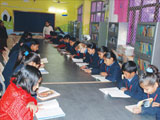 Truly, knowledge can never be enough and reading helps you gain it bit by bit everyday. That's why we try our best to inculcate the habit of reading in every child. The school's library is equipped with a wide range of books. In fact, books of all tastes, interests and levels are available for the students with the facility of e-Library. There is a provision of silent, compulsory reading for every class so that the habit of independent reading at home may be developed in a child as well. Moreover, everyone is issued a book for home every week to reinforce the habit of reading.

Medical & Health Care
Richmondd Global School's medical and health care department ensures that the health of every child is sound. An experienced doctor and a nurse is available during the school hours to provide immediate medical care. Also, there is a regular E.N.T check-up of every child. In case of any emergency, the parents are immediately informed and advised about the further treatment.


Commuting Comfortably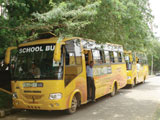 Richmondd Global School gives utmost priority to the comfort, security and convenience of its students. The school has a fleet of buses, well equipped with first aid facility, latest equipment and speed regulators, experienced and caring drivers. The buses are extremely spacious and air conditioned. Besides, every bus has a female attendant who cares to the needs of small children and girls.